Astrological compatibility: Ava Gardner and Frank Sinatra
Introduction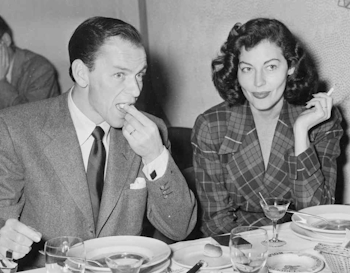 The story of Ava Gardner and Frank Sinatra is one of blazing passion, marked by dramatic twists and romantic reconciliations. This saga transports us back to the golden age of Hollywood, yet their relationship feels surprisingly modern, bringing together a strong-willed woman and a smooth-voiced singer who, at times, appeared more fragile than she.
Nevertheless, he survived their breakup and her death, eventually finding the opportunity to rebuild his life. Let's take a little trip back in time before delving deeper.
Ava Gardner, a Marble Goddess
Born on December 24, 1922, Ava Gardner was not too fond of either that date or being a Capricorn native, as she recalled in her memoirs in 1990. However, this winter sign suited well the woman who, coming from a poor background and with a Southern accent, managed to climb the ladder of fame with determination.
She was also pragmatic, tough, and straightforward. Her Ascendant in Leo gave her a regal appearance that left the public in awe. Finally, a Moon in Pisces explains her emotional reactions that she did not always seem to understand herself.
In comparison, Frank Sinatra seems less enigmatic. A Sagittarius native, he expressed the enthusiasm and joviality of the sign, enhanced by his Ascendant in Libra, which is very sociable.
Cleverly, he capitalized on his crooner charm, becoming one of the biggest figures of his time.
He also shared a Pisces Moon with Ava Gardner, meaning emotional sensitivity. With a few nuances, though.
Take a look at the free compatibility report of Ava Gardner and Frank Sinatra.
A Synastry that Highlights Their Passionate Love, Along with Its Weaknesses
In this synastry that highlights their passionate love, strong assets as well as fundamental weaknesses emerge from the outset. Two elements deserve special attention regarding this legendary couple. Examining the Sun-Moon duo, the main indicator of overall compatibility, we see that Ava's Sun is sextile to Sinatra's Moon: a configuration conducive to a deep understanding beyond words.
However, when considering the planetary influences from the opposite perspective, the message is quite different. For Sinatra's Sun is in tension with the beautiful Ava's Moon: they might not consistently be on the same wavelength. Their values and goals hardly converge.
In terms of sexual attraction, the observation is similar. On the harmony side, we notice that the actress's Mars and Uranus duo, located in Pisces, forms a sextile to Frank's Venus. Good news for their love life, with the actress daring to take the initiative and guiding the destiny of the couple.
However, in the other direction, things get complicated: Sinatra's Mars, in Leo, is square to Ava's Venus in Scorpio. There were heavy clouds of jealousy in the air! Ava seemed to cast a hypnotic charm over Sinatra, like a serpent fascinating its prey.
In summary, this information between Mars and Venus confirms an undeniable physical attraction, magnetic and electric. There were even indications of the risk of slipping into violence. Yet, witnesses remember their violent quarrels, episodes where suddenly, one would leave, leaving the other in tears, with reconciliations that were just as intense.
Reflecting on an Unlikely Encounter
When Ava crossed paths with Frank Sinatra in 1948, both were already stars, but their personal situations were polar opposites. Sinatra, married and a father of three, had already won an Oscar; however, his career needed a boost.
On the other hand, Ava, although 7 years his junior, had already been married twice, including a staged marriage with Mickey Rooney, another young prodigy of the 1940s. She was dedicated to her rapidly ascending career. Despite these differences, they couldn't resist each other.
Sinatra's Moon is conjunct with Ava's Uranus (and Mars), confirming that her bold traits as an independent woman, freed from hypocritical conventions, captivated him.
As for Uranus in the actress's chart, it forms a close sextile to Frank's Venus in Capricorn. This ensures that she was able to infuse a breath of madness into his vision of love, capable of thawing him out.
The Pluto-Mars Duo Foretells a Dark and Fatal Side
Ava's Capricorn Sun, which also has its dose of coldness, opposes Frank's Pluto, while the actress's Pluto in Cancer, opposed to Sinatra's Venus in Capricorn, are all elements highlighting the fatality of their meeting. It is the story of a double fascination that severely shakes the family roots, or even sweeps them away.
Even after they find themselves free to love each other, with Sinatra's divorce being official, nothing calms them down. During the filming of Mogambo directed by John Ford in 1953, Ava gets pregnant, reflects, and then decides to have an abortion. It was impossible for her to imagine giving birth to a child while she had to film in Africa and Frank Sinatra was on tour.
She would admit years later that she probably broke his heart.
A Couple that Embraces Excess, Driven by Jupiter
For them, any attempt to establish boundaries seemed doomed to fail. As a Sagittarius native, Sinatra overflows with confidence, and as soon as he has the means, he indulges in partying. Excesses, whether related to alcohol consumption or a lifestyle that some find dissolute, became their daily routine.
When the context is favorable, Ava's benevolence, symbolized by a Jupiter sextile to Frank's Venus, opens the door to all sorts of romantic follies. However, the singer can sometimes get carried away in dangerous drifts: his Uranus, powerful in Aquarius because it is in its domicile, pushes him to extravagant behavior, which his belle ends up finding unbearable, as it is square to her own Jupiter.
The suicide attempts, sometimes feigned, reflect a real malaise in Sinatra, caused by their relationship.
However, this same Uranus is placed in Ava Gardner's house of marriage, which is quite resistant to any official commitment, with the seventh house in Aquarius. The two lovebirds will have to face the facts. Marriage won't change anything, and divorce will be consummated the day she learns that he has cheated on her with a showgirl...
After this painful separation, nothing will taste the same for them. The actress will choose to settle in Europe, far from Hollywood, while he will vainly seek to forget her. He publicly expressed his regrets upon learning of her death on January 25, 1990.
With Sinatra's Sagittarius Sun forming a beautiful romantic trine with the Neptune of his Barefoot Contessa, we know that their relationship also had something to make people dream.
Conclusion
The couple formed by Ava Gardner and Frank Sinatra experienced highs and lows, a succession of moments of pure bliss and violent disputes, undoubtedly reflecting their strong characters and formidable personalities.
Ava managed to bring the madness and intensity of feelings that were missing in Frank's life, while he offered Ava the stability and recognition she sought.
Their story, though it has ended, remains etched in memories as a fervent and tumultuous passion, befitting these two icons of film and music.
You will find below the synastry chart for Ava Gardner and Frank Sinatra:
Ava Gardner (Inner Wheel)
December 24, 1922, 07:10 PM
Boon Hill (Johnston), North Carolina, United States
78.11W ; 35.28N ; 5W00
Frank Sinatra (Outer Wheel)
December 12, 1915, 03:00 AM
Hoboken (Hudson), New Jersey, United States
74.01W ; 40.44N ; 5W00
You can access the pages of your favourite couples of our file Astrology and compatibility of some famous couples: