The Sun, Motivation, and Willingness 3/3
This article deals with our major motivation in life. The driving force behind our efforts is indicated in our natal chart by the House in which the Sun is posited. Since the Sun symbolises our will and our inner self, the sign where he is found determines the nature of our character and our true temperament.
Based on the position of your Sun in house, we indicate in which area you express your willpower. You can instantly get the position of your Sun in sign and in house. All you need to do is locate the orange glyph of the Sun (a circle with a dot at its centre) in the house area, outside the zodiacal wheel. Then you can check the accurateness or the resemblance between your personality traits and the relevant texts below.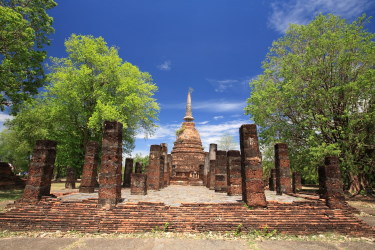 Whereas the Ascendant defines our outward appearance, the solar function represents our need to assert ourselves. The Sun absorbs the "hues" of the sign he occupies, and with its characteristics, he influences one of the twelve life departments which are represented in the twelve astrological Houses.
Please note that our indications are based on the meaning of a given configuration taken on its own, and that other different or contradictory elements of the natal chart may weaken or modify its basic meaning. Furthermore, it is often difficult to separate what is concretely experienced from the symbolic and internalised aspect of a configuration. A manual analysis appropriately puts all the different pieces of the puzzle in place, such as assessing that an extroverted person is very likely to be successful, etc. Let's take the example of the 9th house now. It highlights keen interests in far-away matters. But the concept of distance may be expressed on an abstract, mental, or spiritual plane, and it does not necessarily translate into frequent travels by air to the other end of the globe. Astrology works perfectly well, and verifications of its accurateness are rewarding for those who study it, but... it discloses its secrets only after many years of learning. In this regard, astrology is similar to any other discipline and confirms that nothing is easily or immediately granted.
The Sun in the 9th House: Journeys into Faraway Lands
Very early in life, you applied to yourself the saying that « No man is a prophet in his own country ». Since your childhood, you have the feeling that you have something different which cannot be totally understood by your entourage. Your natal environment prompts you to venture into unknown territories and faraway lands where you hope that your real talents and qualities can eventually be acknowledged.
You feel more comfortable when you are far from home, sometimes because of your rebellious mind, but often because of the simple feeling that you are different, or the awareness gained through your practical good sense. Indeed, you are attracted to things which your family or your roots think to be too original, and which they can neither understand nor offer.
This peculiarity may take various forms depending on your destiny and your personality. It may translate into a strong inclination for faraway travels, higher education, spirituality, philosophy, religion, morals, or culture. Occupations in these fields meet your physical and intellectual needs to be elsewhere. You may be interested in a career of ambassador, judge, exporter, philosopher, researcher, university professor, reporter, or any job with the clergy.
It is certain that your social status can greatly improve in places far from home. Your ambitions are not hampered because international affairs or all things which are different from your natal environment are very beneficial. You have no problem learning foreign languages, and you study this area with the certainty that you are forging valuable assets for the rest of your life.
Your self-assertion and your success are achieved through experiences occurring abroad or connected with foreigners. If you are a female, it is very likely that you marry a foreigner who will play a major part in your part. As you mature, more often than not, you exude a radiance which stems from higher knowledge, be it spiritual, moral, or intellectual, unless it simply comes from the fact that you devote yourself to a noble cause for which you sincerely spare no effort.
In a few rare cases, when there are tense mundane planetary configurations, you may be affected by diseases or fevers which you contract abroad. On the professional or business plane, conflicts may crop up during your travels and tarnish your prestige or your honour.
What constitutes your strength does not exclude caution. Bear in mind that too much easiness may lead to unforeseen situations. Although this principle holds true in all areas of life, it is certain that when exotic journeys are involved, or figuratively, when you take intellectual, moral, or spiritual stands, you ought to be wary, to step back, and to show some restraint.
Here is a selection of thousands of horoscopes having the Sun in the 9th House.
And some examples:
The Sun in the 10th House: The Reign of Ambition
Your need for self-assertion is very strong and is clearly focused on the achievement of your social or professional destiny, or at least, on a dramatic rise in comparison with your natal background. Your efforts, your will, and your goals are well-defined in your mind. You have a precise idea of the sort of destiny you want, and you do not want to remain unknown!
In the astrological Tradition, the Midheaven is associated with the mother. Therefore, she may be beneficial for your career or speed up your career if other configurations of your chart concur.
You have an innate sense of commandment and a marked taste for honours and prestige, and you need to have your worth fully acknowledged. You loathe imprecision, and you set concrete objectives in order to rapidly leave the tranquillity of anonymity, for which you have no affinity. Your determination and your irresistible desire to always gain more influence in the position you occupy are your major assets for achieving your goals, which are to shine forth and to heave yourself up, higher and higher.
There are serious indications of celebrity in your chart but they need to be confirmed by other concurring factors. Even though you do not rise to fame, it is most likely that you achieve some degree of renown in your field of competence, and this is far from displeasing you. Thanks to your efficiency and your organisational skills, it is easy for you to find your place in the sun.
In a few rare cases, your ascent, which is much above that of average people, is achieved on the spiritual plane and does not involve your social or professional status. Your beliefs and your personal commitment may lead you to play the role of a solar authority. You may become a leader or a master in the field you choose.
Even though you refuse to name it and to tell other people, your frenzied desire for success inevitably creates authority struggles. Your will to rise up too quickly to a level which is so different from the one you were at recently may bring about clashes with the members of your hierarchy or with the people whom you regularly outgrow and who do not agree with you.
There is also the dormant danger that you become trapped in exhilaration of power and its disastrous consequences. However, you do not need to jump in it with both feet. A fair dose of detachment and meditation are very likely to spare you many a trouble.
Here is a selection of thousands of horoscopes having the Sun in the 10th House.
And some examples:
The Sun in the 11th House: First Call for Friends
You certainly are a good soul. Above all, you enjoy asserting yourself through the channel of friendship, the genuine one which is deep and warm. You find that nothing is more rewarding than to be accepted and loved by the friends and acquaintances you select.
Collective activities offer many satisfactions, and it is through the regular contacts with your colleagues that you are most likely to give of your best. Your genuine desire to weave solid friendship ties during your activities (which are not necessarily professional) contributes to enhance your charisma and to assert yourself with authority, but at the same time with benevolence and selflessness.
Supports and protections from higher-ups are repeatedly granted to you, and not in parsimonious ways. They help you to implement your various projects, preferably amid a warm and affectionate entourage. Indeed, isolation does not suit you because you would feel that your efforts serve no purpose. Your need for recognition and your thirst for warmth are so strong than you cannot spend too much time striving in solitude.
Teamwork and projects involving humanitarian and artistic projects, or works of public interest wonderfully fit your idealistic and sociable nature. Sometimes, rivalries and squabbles affect the friendship ties which you believed to be stable and strong. Unfortunately, it is impossible to make everyone happy, and in such occasions, you should not bother too much because you have such a loving, simple, and nice nature that it won't take long before faithful and reliable friends make you forget the few disappointments you went through.
Here is a selection of thousands of horoscopes having the Sun in the 11th House.
And some examples:
The Sun in the 12th House: Precious Secrets
Your desire to achieve takes on a quite peculiar form, in the sense that you are unable to resist the appeal of mystery and you cannot help withdrawing from some events. Your natural inclinations often prompt you to isolate yourself and to protect your private garden because it is during such privileged moments, when you are alone with yourself, that you can go back to your roots and eventually blossom.
You have a strong propensity to introversion, tranquillity, and even a certain taste for solitude which may be natural or caused by the force of habit. But you are more secretive and enigmatic than solitary. It is just that a more or less important part of you (depending on the rest of your chart), is hidden and inaccessible to others.
You are sociable, but you appreciate discretion. You often show a real dedication towards people, and your compassion is one of the original facets of your personality which is not easy to figure out. You tend to forget your individuality and to almost negate it in some cases. You are not interested in personal glory, which is entirely to your credit. You thrive through selflessness, volunteer and humanitarian work, and the alleviation of the distress and the injustices which surround you, and which you sense more acutely than anyone else.
The paradox is that the more you distance yourself from society, the more successful you are, at least as far as your inner strength and your evolution are concerned. Working in secret or in a secluded setting often suits you very well. You are favoured if you are a writer, a painter, a medical practitioner, a psychiatrist, even a monk/nun, if your work is related to prisons, or if it is conducive to calm and contemplation. This does not exclude celebrity, but if you achieve fame, you ought to allow a hidden part of you to express itself in one of the areas mentioned above, for your own good.
According to the Tradition, this configuration indicates that your evolution is linked to ordeals and obstacles leading to a crisis and a period of solitude. Their finality is to enable you to be on your own and to take the time to ponder on what is really meaningful in a life journey which seems so absurd and mad at first sight. You do not need to worry because no predisposition is better than another one. We all have our own path, and yours goes through plain authenticity, secret, self-generation, as well as several periods spent far from social whirls and false relations which are only a waste of time.
Your accomplishment may turn you into the power behind the throne. It may take you into hidden topics which people do not talk about such as the supernatural, occultism, the great mysteries, etc.
Your destiny has a mysterious part which no one suspects. You are far from being the simple person one might believe that you are. Although you do not show it, you are aware that you do not match the opinion which most people have of you.
You are interested in situations which enable you to hide or to withdraw at certain periods of your life. This is often the result of a series of ordeals. However, beyond your defensive reaction, there is a genuine inclination for mystery and secret.
You must overcome your periods of isolation and ordeals because the reward is commensurate with what you are entitled to expect: swifter moral and spiritual evolution, wisdom, and a blooming personality. Some people choose small roads in the countryside for enfolding their life. You prefer to take the highway for your journey to your salvation, and you avoid the social illusions of ordinary life in society. More than anyone else, you are favoured. You are prompted to overcome pitfalls and to never let pessimism dishearten you.
Here is a selection of thousands of horoscopes having the Sun in the 12th House.
And some examples:
You will find the previous part of this file at The Sun, Motivation, and Willingness 2/3.